We have been helping people become "Tableau Jedi" through our weekly blog posts and video tutorials for years, so we thought what better way to celebrate May the 4th (Be with You) than a sale at Playfair Data TV to help even more Tableau users master their skills!
Now through Saturday, May the 4th, we are offering $54 off lifetime memberships at Playfair Data TV. No discount code required. No additional payments – ever. Just you and more than 12 hours of content from one of the world's most qualified Tableau instructors.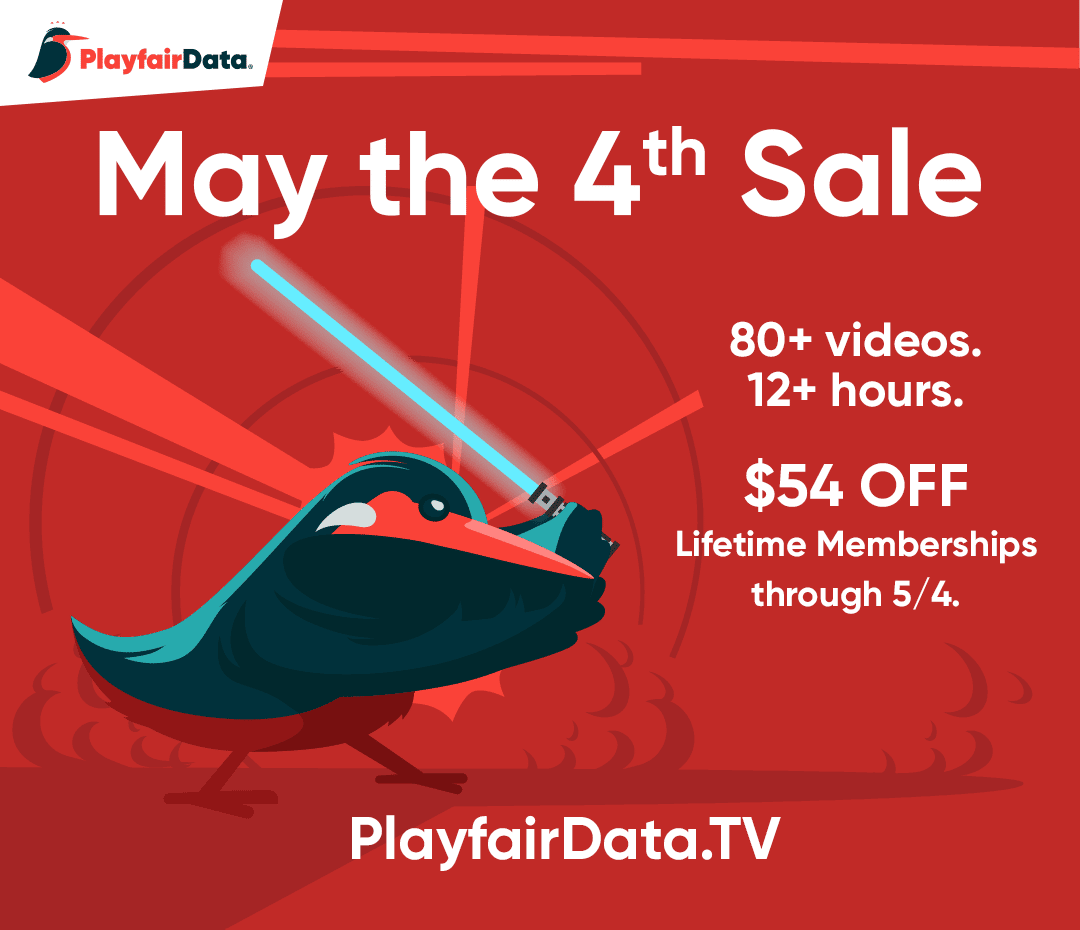 Launched in August 2018, Playfair Data TV is a premier video training resource for learning Tableau, data visualization, and analytics strategy. At Playfair Data, our mission is to be the best partner resource for turning raw data into valuable insights, and Playfair Data TV is the video platform we use to help us accomplish our mission.
As of this post, Playfair Data TV includes 81 videos spanning more than 12 hours of content across eight learning tracks. New video tutorials are added every month and available to lifetime members for no additional charge.
Why Playfair Plus
There are many benefits of becoming a lifetime member or monthly subscriber at Playfair+ that make the platform uniquely positioned to help you master Tableau on demand, at your own pace.
Tutorials are taught by one of the most qualified Tableau instructors in the world, our founder and principal consultant, Ryan Sleeper. Many of the strategies and tactics taught at Playfair Data TV were invented by Ryan himself.
New videos are recorded and added to the platform every month, making Playfair Data TV one of the largest and fastest-growing Tableau video resources worldwide.
New videos are recorded in the latest version of Tableau, making our resource library not only among the largest, but the most up-to-date. If an idea ever becomes obsolete due to software updates, we reproduce the video to show you a better approach!
Every subscriber or member receives a personal account dashboard where they can control their account details and view their bookmarked tracks. Pick up a favorite technique at the site? Add it to your account dashboard and have convenient access to on demand instruction.
Every video is professionally transcribed to help with accessibility and for those who prefer to learn on the go.
Related content for each video is handpicked by the instructor to provide the most relevant concepts and intuitive learning path possible. When a video covers advanced calculations, the calculations are provided with the related content for easy copying and pasting.
We offer a traditional subscription option so you can get started for as little as $20 per month. We also offer a lifetime option that is unique in the market. One payment – ever. Regardless of how large our video library grows or how many courses we expand to in the future, our earliest adopters will enjoy unlimited access to everything on the platform.
I hope to be in touch through Playfair Data TV. Please don't hesitate to let me know if I can answer any questions for you.
Amy Leonard
Director of Partner Engagement, Playfair Data
amy@playfairdata.com