Announcing Tableau Conference 2018 Plans, Book Signing, and Giveaways
Headed to New Orleans next week? I'd love to say 'Hi!' in person, so I'm sharing my schedule and some announcements below:
Practical Tableau Tips
Tuesday, 2:15 – 3:15 PM | New Orleans Theater B
It's hard to believe this will be my eighth presentation across Tableau Conferences. While they've all been fun, this one is special because I'll be discussing the data visualization values that help drive my decision-making process. I'll be sharing personal stories that help shaped my style, show you how to make traditional chart types more engaging, and we'll get innovative and talk about how color and spatial context help your audience understand your work.
If you are interested in attending, please star the session (Practical Tableau Tips by Ryan Sleeper) in the TC18 app to ensure everybody will have an opportunity to attend.
Practical Tableau Book Signing
Wednesday, 10:30 – 11:30 AM | Tableau Store (Expo Hall)
Tableau has invited me to do my first-ever book signing on Wednesday morning. I never assume somebody wants their books signed, but of course I'm happy and humbled to sign Practical Tableau or other books I've contributed to. If you prefer not to lug a 600-page book to the Big Easy, there will also be 100 copies for sale in the Tableau Store.
Practical Tableau and Playfair Data TV Giveaways (and flair!)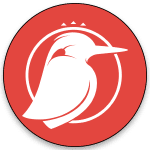 Throughout the conference, I'll be handing out limited edition Playfair Data buttons featuring the kingfisher mark wearing the triple crown. On top of that, I'll be giving away one copy of Practical Tableau each day (Monday – Thursday) to someone I spot with the button on their TC badge. One lucky book recipient will also find a code inside their copy for a free, lifetime membership to Playfair Data TV – our new online Tableau learning platform.
If I don't see you at my session on Tuesday or book signing on Wednesday, I'll have two appearances in the Zen Garden in the Expo Hall (Day / Time TBD). And if you can't make it to TC this year, remember you can watch some of the biggest keynotes and announcements on Tableau Conference Live – by the way, that's me photobombing the share button
Lastly, even though I'll be in New Orleans all week, you will still receive a regularly-scheduled weekly tutorial next Tuesday; I'll be sharing a new twist on one of my all-time favorite techniques.
Thanks for reading and I hope to see you soon,
– Ryan
---