Playfair Data Announces New Office in the Smart City of Lake Nona
From the Heart of the Country to the Heart of Innovation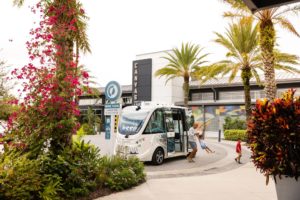 On the heels of our recent recognition by the Kansas City Business Journal and Ingram's Magazine, and the company's inclusion on the Inc. 5000 List, Playfair Data is excited to announce the opening of a second location in the Lake Nona community of Orlando, Florida.
Playfair Data's new office at 13495 Veterans Way, will be near SR-417 in the heart of Lake Nona Town Center with proximity to the community's health and life sciences business cluster, growing residential communities, and within walking distance to Lake Nona's top restaurants and entertainment spots. The office is 10 minutes from the state's busiest airport, Orlando International Airport, and the future Brightline station.  Construction is expected to be complete in early 2023.
State-of-the-Art Office, Studio, and Setting
The Lake Nona office will boast several meeting rooms, collaborative spaces, and a video-production suite to support the company's live virtual training events and growth of our online learning platform, Playfair+.  While Playfair Data will remain a flexible workplace, this new location will also make available shared offices to support the work-style of any team members who may prefer an in-person work setting. The state-of-the-art office building also features the latest technology, including View Smart Windows that predictively tint to outdoor conditions increasing access to natural light while minimizing heat and glare.
Photos courtesy of Tavistock Development Company
A Commitment to Both Our Beloved Hometowns
The City Beautiful is the perfect location for hosting training and consulting clients as well as our Kansas City colleagues, especially in the winter.  While the climate may be different, Orlando and Kansas City share the distinct commonality of being communities with an abundance of technology, business, and design talent, rich with diversity, education, and experience.  Playfair Data is fortunate to have relationships with academic institutions in both regions, as well as the Orlando and Kansas City Tableau User Groups, which are among the best in the country.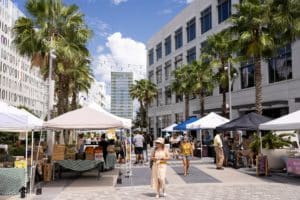 "We couldn't wait any longer to take advantage of the benefits to providing a collaborative space where our team can gather, in one of the most innovative communities in America, no less." says Playfair Data Founder and Principal, Ryan Sleeper.
"With more than half our team members based in Central Florida, we want to build an environment in a neighborhood that matches the vibrancy of our headquarters in Downtown Overland Park, Kansas. In addition, this new office space will bring us closer to our key academic partner in the University of Central Florida, the second-largest university in the United States, and put us in the heart of what are emerging as key industry hubs of healthcare, research, entertainment, and aerospace in Lake Nona."
Partner with Us
If you're wondering how Playfair Data can help your organization make a difference with data, it would be our pleasure to have a conversation about how we can support your data-related needs.
Related Content
Playfair Data is excited to announce four recognitions underscoring its excellence in the field of visual analytics and its business…
Twice annually, the entire Playfair Data team gathers together to innovate, grow, and elevate our team as a whole. As…
Playfair+ members (and potential members) – Thank you for your support of our premier visual analytics eLearning platform. Five years…